GAS EXPLOSION: SENATOR ADEOLA DECRIES LACK OF ADHERENCE TO SAFETY STANDARDS
The Chairman of Senate Committee on Finance, Senator Solomon Adeola (APC, Lagos West), has commiserated with over 30 adults injured and scores that lost properties worth hundreds of millions of Naira in the gas tanker explosion at Cele Bus Stop, Iju-Ishaga in Ifako Ijaiye Local Government Area of his Senatorial District yesterday.
With as yet unconfirmed report of deaths, the Senator decries the incessant incidents of either pipeline or gas and petrol tankers explosion in his densely populated Senatorial District stressing that most of these explosion can be attributed to lack of adherence or absence of safety measures by operators of pipelines, tanker owners, lax regulatory regimes and sometimes human factors by operators of gas plant and petrol stations.
"It is disheartening to learn from Tanker Owners Association that over 80% of articulated vehicles in Nigeria lack safety measures requisite for their operations and most of them are old and ill maintained vehicles without regulatory agencies like Federal Road Safety Commission, FRSC and various vehicles inspection authorities doing anything about it. The time is now for these regulatory agencies to enforce rules and regulation and for our laws to be amended to give bites where such is the impediment to enforcement" he stated.
While commending the Lagos State Government agency for emergencies, Lagos Emergency Management Agency (LASEMA) and the Fire Service, for always rising to the occasion to mitigate these disasters, Senator Adeola called on the National Emergency Management Agency(NEMA) to come to the aid of the victims with materials as most of them are not only homeless but lack basic necessities of life following the destruction of their properties.
The Senator promised to pursue legislation to restrict the movement of articulated vehicles carrying explosive materials to certain periods of the night and to densely populated areas like his largest Senatorial District in Nigeria, (Lagos West), adding that preventive measures should be strictly enforced by regulators in term of location of gas plants and petrol stations in densely populated areas.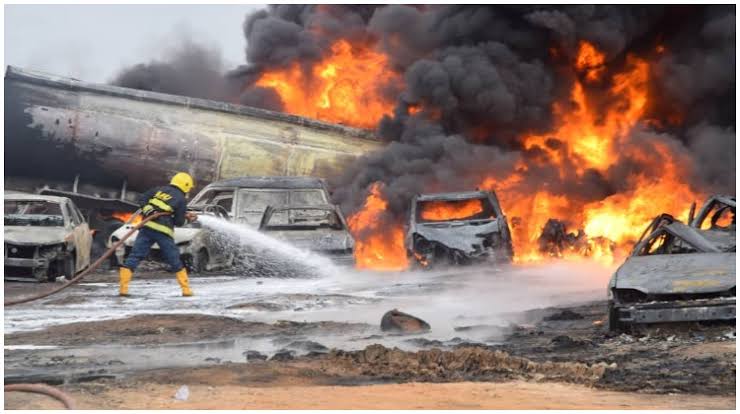 FOR SUBSCRIPTIONS CALL 08024427844
EMAIL applaudnews@gmail.com